Sunday, May 12, 2019
Gate Opens at 11:00 AM. Lunch Served 12:00 to 2:00.
A Benefit for Audubon Canyon Ranch and Marin Audubon Society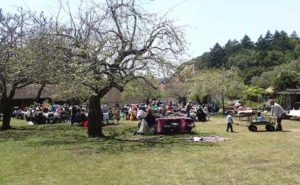 Please join us to celebrate mothers and nature at our Mother's Day Picnic in one of the most spectacular wildlife preserves in Marin.
Volunteer Canyon at Audubon Canyon Ranch in Stinson Beach is rarely open to the public. Lunch with us there under the trees of the old orchard, take a family walk with nature guides, or simply hike on your own on the many nature trails in the Martin Griffin Preserve in the next canyon over.
Every year for the past 50+ we have held this fundraiser to support the education and conservation programs of Audubon Canyon Ranch and Marin Audubon Society. Adult lunch tickets are $30, tickets are $10 for children 12 and under.
Bring family, friends, and especially children to enjoy spring in Volunteer Canyon.
Our lunch includes Rosemary Grilled Chicken or Vegetarian Quiche, accompanied by salad, beans, wholesome breads and desserts. Wine & beer available at no host bar.
For more information on the Griffin Preserve and Volunteer Canyon: http://www.egret.org/preserves_bolinas
Reservations are required.
Parking is limited, please carpool if possible. Wheelchair access and disabled parking are available.
Tickets: $30 Adults, $10 Children (under 12)
To order by mail Download our Picnic flier and send us your completed Reservation Form and payment before May 8.

Online registrations have closed.
No tickets will be mailed – your online payment or your check by mail will guarantee your place. That portion of each ticket over the amount of $10 is tax deductible.
We encourage you to "be green" and bring your own non-throw-away utensils/dishes/cups and napkins.
Please, NO PETS. Gates open at 11:00 am.
Lunch is served from 12:00 to 2:00 pm. We start packing up around 3:00 pm. If arriving late, be prepared to picnic on the grass. This event is held RAIN or SHINE. Indoor seating will be available in the event of rain.
For more info, call 415-453-2216.
Directions To Volunteer Canyon, Audubon Canyon Ranch, on Bolinas Lagoon. Address is 4800 Shoreline Highway 1, Stinson Beach, CA 94970
The entrance to ACR's Volunteer Canyon is 2.66 miles north of Stinson Beach (1/3 mile south of ACR's main entrance to the Martin Griffin Preserve on Highway 1.
Driving from Central Marin:
Option One: Highway 101 north from San Francisco, or south from San Rafael to the Highway One/Stinson Beach exit. Follow approximately 12 miles to Stinson Beach. Continue 3 miles north to Volunteer Canyon gate on right hand side of the highway.
Option Two: Take Highway 101 north from San Francisco, or south from San Rafael to the Sir Francis Drake Boulevard Exit. Follow Sir Francis Drake Blvd. northwest for about 21 miles to Olema. Turn south (left) on Highway 1 and follow for about 10 miles to Bolinas Lagoon. Volunteer Canyon will be on the left 1/3 mile after the entrance to ACR's Martin Griffin Preserve.
Public Transportation
Audubon Canyon Ranch is accessible by public transportation via the West Marin Stagecoach, though on a limited basis. (The coach stops at Martin Griffin Preserve, 1/3 mile away.) Please check their website before embarking on your trip.
Photos by Jude Stalker and Bob Hinz.