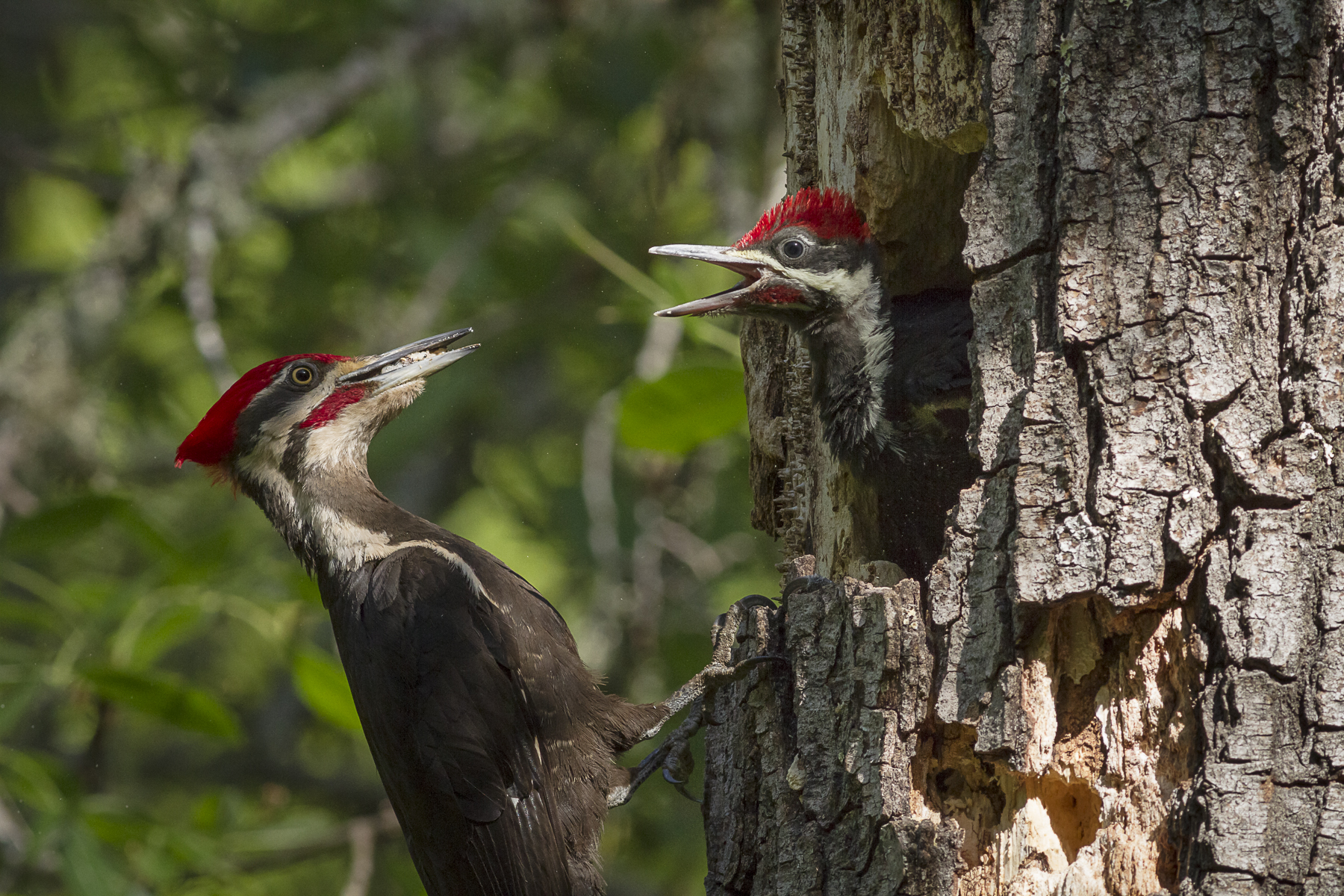 Adult & Juvenile Pileated Woodpecker – by Sylvia Hunt 
Welcome to the Marin County Breeding Bird Atlas 2
The Breeding Bird Atlas is a four-year project that will map the distribution of birds that nest in Marin County. This project is actually a continuation of the long-term survey begun in the 1970s by Bob Stewart and Dave Shuford. Over four field seasons, Stewart and Shuford supervised scores of volunteers to gather data on the basis of a grid system overlaid onto topographic maps of Marin County. Their field work culminated in the publication of Shuford's landmark Marin County Breeding Bird Atlas.
This year, 2022, marks the 40th anniversary of the completion of their field work. We are proud to walk in the footsteps of all their volunteer contributors. To a great extent, we are replicating the field methods used by our predecessors. However, certain innovations have been introduced by sophisticated mapping technology and data storage infrastructure, along with some changes to the field methods.
New information will be added to this page on a regular basis. Please make sure to check back often!
MCBBA2 Annual Report
The MCBBA2'S first annual report is now available here. It summarizes our findings as of August 1, 2021, and the results are encouraging! Thanks to an army of volunteers and advisors, and the ongoing support from Marin Audubon, the project is well underway.
Marin County Breeding Bird Atlas 2 – Frequently Asked Questions
What is a breeding bird atlas?
A breeding bird atlas is essentially a stack of maps that show the geographical distribution of birds that are nesting in a given area. An atlas project sets out to gather data for such maps within a set study period. Breeding behavior and its distribution across this area can be tracked over time, related to habitat features, and quantified in various ways. A work like this is based on a body of data that is accumulated over several years of field work.
How long will this project take?
The field work will be conducted during the breeding seasons of four consecutive years: 2021-2024, with the possibility of running a fifth survey season, should there be unacceptable gaps in our data. Production of the summary Atlas will go beyond 2024.
Has such a thing been done in Marin County before?
Yes! Actually, the first county-level breeding bird atlas in California was produced in Marin County. Field research for this project took place during the breeding seasons of 1976-78 (organized by Bob Stewart) and 1982 (organized by Dave Shuford). The result was one of the most important bird books ever published in California: the Marin County Breeding Bird Atlas, by W. David Shuford (Bolinas, 1993). This book is on the short list of required reading in avian status, distribution, ecology, and conservation for all northern California.
Do you intend to survey the whole county?
Since no biological field work can ever hope to achieve total knowledge of a study area, the trick is to set realistic goals for sampling.  This will be done by following techniques used by all major atlas projects and standardized by the North American Ornithological Atlas Committee.
Will you survey the county all at once?
In order to survey the county in a systematic way, a grid system has been overlaid onto topographic maps of Marin County. This grid system results in 221 cells, or 'study blocks', each of which will eventually be surveyed by one or more volunteers. Over four years, the goal is to achieve adequate coverage as defined ahead of time. So, the survey will not take place county-wide simultaneously; however, at any given time during the next four breeding seasons, a significant proportion of blocks will be under scrutiny.
Who provides these observations?
Most observations will be provided by 'Block Leaders' (BLs); that is, skilled volunteers who take responsibility for the field work, data collection, data entry, and data proofing for their adopted block (or blocks). Those who would like to contribute but cannot take on the responsibilities of a BL are still welcome to add their findings as 'Additional Observers'; there is also a means to report casual or incidental observations using the Incidental Breeding Behavior web form which can be quickly referenced in the third gray panel titled Field Forms and Data Submission. Certain data will be available via existing, specialized bird surveys conducted by field biologists. Finally, BBA2 organizers will regularly scan citizen science resources like eBird for any relevant records they can use.
May I volunteer as a Block Leader?
Skilled birders who can commit their time and energy are welcomed! The atlas project has already signed up dozens of highly skilled observers – but more are needed. If you are good at ear-birding or eager to perfect this skill; if you can readily identify our county's birds of late spring and summer; and if you are a patient observer who can accept responsibility, then please get in touch with one of the regional coordinators. See a list of atlas contacts on this page.
What time commitment is required?
BLs are asked for a minimum commitment of 16 well-distributed hours per block, per season. This is a notional total summed from four visits at four hours apiece. Note, however, that these visits must be distributed wisely through the field season (see below). For example, it is not that helpful to a project like this if you attempt to bunch your visits into a couple of weeks near the beginning of the season. This is what is meant by 'well-distributed'. To get a more precise sense of what we mean, please consult the chapter, "Timing of Block Visits", in our Block Survey Guide. 
I see birds nesting in my backyard or on my walks. How may I report these?
You need not be an official Atlas Block Leader (see above) to contribute data on breeding birds. You may do so by using eBird, a citizen science database with desktop and phone applications; or, for a more direct line to our project, please fill out the MCBBA2 Incidental Breeding Behavior web form, which can be quickly referenced in the third gray panel titled "Field Forms and Data Submission", to provide reports of specific observations by location, species, and date. 
I am a landowner / manager, and I'm willing to have birders come and survey my property. How can I get in touch?
It is best to get in touch with the Regional Coordinator who oversees the portion of the count where your land is. The Breeding Bird Atlas staff and volunteers  are committed to mutually beneficial collaborations with Marin's farm and ranch owners, as well as managers of major properties. 
Are there other ways to help, such as data proofing or other clerical needs?
Help like that can be used! Please contact a Regional Coordinator near you.
My son/daughter is interested in birding. Can they participate?
How they can help with the project depends on their skills. If you're not sure, get in touch with one of the Regional Coordinators.
When exactly is the breeding season?
There is obviously no single answer for all of our breeders. Still, there is a recognizable peak in breeding activity each year. For most habitats in Marin County, if you are a Block Leader, it is best to begin scouting in late March so that you know where to look. You'll find a perceptible increase in activity by mid-April. Fledglings are easiest to find from mid-May to late June, with certain species still going strong into early July. At this point, much of the remaining activity is occurring at lower elevations. It is not out of question to find newly-fledged young into September, but you should not put your visits off so late. Therefore an official annual field season of 15 April – 15 July is being used.
But don't birds sometimes breed before and after these dates? 
Before and after the dates of the field season, there is considerable movement among bird populations, as a vast sorting takes place between winter and summer birds. Undertaking our general field work during these times would result in muddled data. The field season, on the other hand, represents a time of general stability in the breeding population. It is during this period that the full range of breeding behaviors may be observed, recorded, and interpreted with security. The atlas staff will indeed accept detailed breeding records before and after these dates, which are to be provided via the Incidental Breeding Behavior web form, which can be quickly referenced in the third gray panel titled "Field Forms and Data Submission", or via eBird.
What is the approximate area or acreage of the study blocks?
The blocks measure approximately 2.5 km to the side. That comes out to roughly 6.25 sq km, which is somewhat larger than 1500 acres. For comparison, the Nicasio Reservoir in Marin County covers 845 acres, or a little over half the size of one of our study blocks.
Is the atlas only interested in breeding evidence or will other data be collected?
The main goal is to update the first edition of the Marin County Breeding Bird Atlas with the revised distribution of breeding birds, four decades later, but the field work will capture data in two new areas. First, this project will seek to determine the abundance of our breeding birds. This will be done by performing two kinds of counts in the field. Second, breeding activity will be related to habitat type. To do this,  geospatial coordinates for certain breeding records will be gathered in order to relate them to a map of plant communities in Marin County.
Will the Atlas publish the location of nests?
No, exact nest locations will not be published. In order to relate a finding with an existing map of plant communities, atlas staff will gather precise locations and enter them into a database. These coordinates will not be shared with the public. The published maps will relate solid breeding evidence only to the atlas study blocks, which (as mentioned above) average about 1500 acres. This project's prime mission is bird conservation; for this reason, the protection of our species is prioritized.
How can I donate to support the Marin County Breeding Bird Atlas?
We are so grateful for all the volunteers that make this project a success. Even with all this generous volunteer support, we also have a number of expenses that we have to fundraise to cover to ensure the success of this endeavor. To that end, we are actively seeking donations to help support the Atlas. If you are interested in contributing a tax-deductible donation – any amount helps! – please donate via PayPal to the Marin County Breeding Bird Atlas, or send a check made out to The Breeding Bird Atlas and send it to Joan Lamphier, PO Box 1022, Stinson Beach, CA 94970.
Field Forms & Data Submission
Official Block Surveys: Field Card
Use this form (and submit the data from this form into CADC – see HERE for instructions) for official survey observations that meet the following criteria:
– You record them during a visit to a specific block (whether or not you are Block Leader or Additional Observer for that block).
– Your visit lasts 22.5 minutes or more. Remember to round up or down to the nearest .25 hr.- You record all behaviors (low to high codes) and count all individuals you detect. (The 'count' will sometimes, of necessity, be a careful estimate.)
– You are able to pinpoint coordinates for the 'specific codes' (see the form).
– [Note 1] If you are not the Block Leader for a block you are surveying, and have capacity to do an official survey and enter/proof it, please contact the Regional Coordinator for that area to let them know you have collected data for that block (they will also let the block leader know, if there is one; if you have the contact info for the block leader, you can include them) and that you have performed data entry and proofing. (If you cannot do data entry, please instead fill out the Incidental Breeding Observation Form, below).
– [Note 2] If you print this form to take along with you, consider printing two or more copies of page 2 for additional space. Make sure you have a new p. 1 for every additional block you intend to visit on a given day.
– [Note 3] If a single outing takes you into more than one block, please keep separate records for each block.
– [Note 4] If you leave your block or interrupt your survey for more than 15 minutes, please subtract this time from your effort data.
Incidental Breeding Observation Webform
Use this online data entry portal to submit confirmed and highly-probable evidence of breeding that falls outside of official block surveys (as described in the above field form criteria) that either:
– Are observed by birders, any members of the public, and any interested contributors to the Atlas (other than block leaders), any time and anywhere in Marin County
– Are observed by block leaders (1) outside of the April 15 – July 15 Atlas period, (2) incidentally on their blocks but not during an official survey that meets the above field form criteria, or (3) outside of their own designated blocks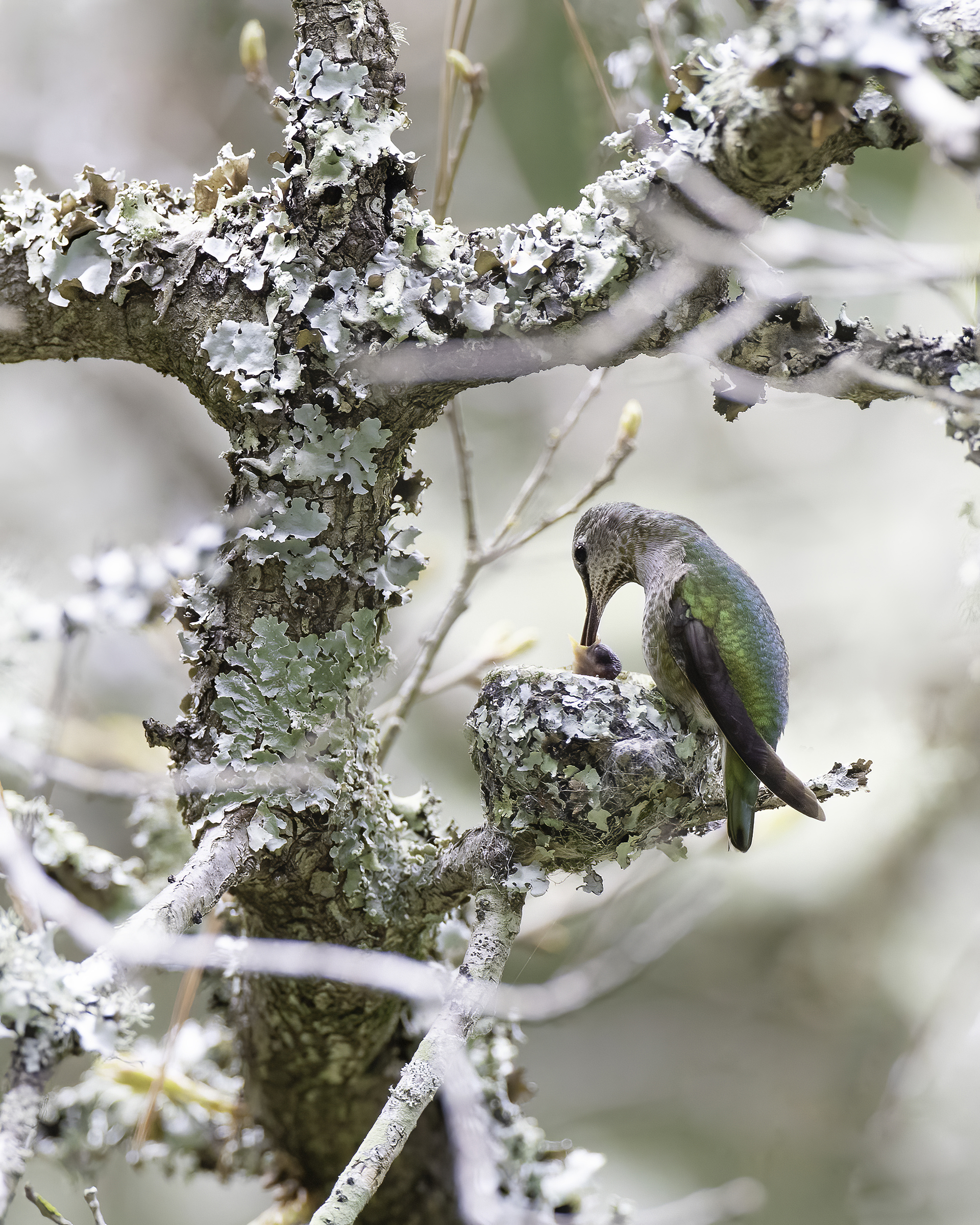 Female Anna's Hummingbird & Hatchling – by Elyse Omernick 
MCBBA2 Contacts
MCBBA2's grid system is organized into four regions. Block Leaders, Additional Observers, and prospective volunteers should first reach out to the Regional Coordinator who oversees the region where their block is located. If you have a general question about the project, Regional Coordinators will be able to help you with that too. 
Regional Coordinators:
Novato Region – Susan Kelly: 
Tomales Region – Interim joint coordinators: Daphne Hatch: & Diana Humple:
Point Reyes Region  – Joan Lamphier:
Tamalpais Region – Mark Dettling:

Steering Committee Members:
Daphne Hatch:
Diana Humple:  
Joan Lamphier: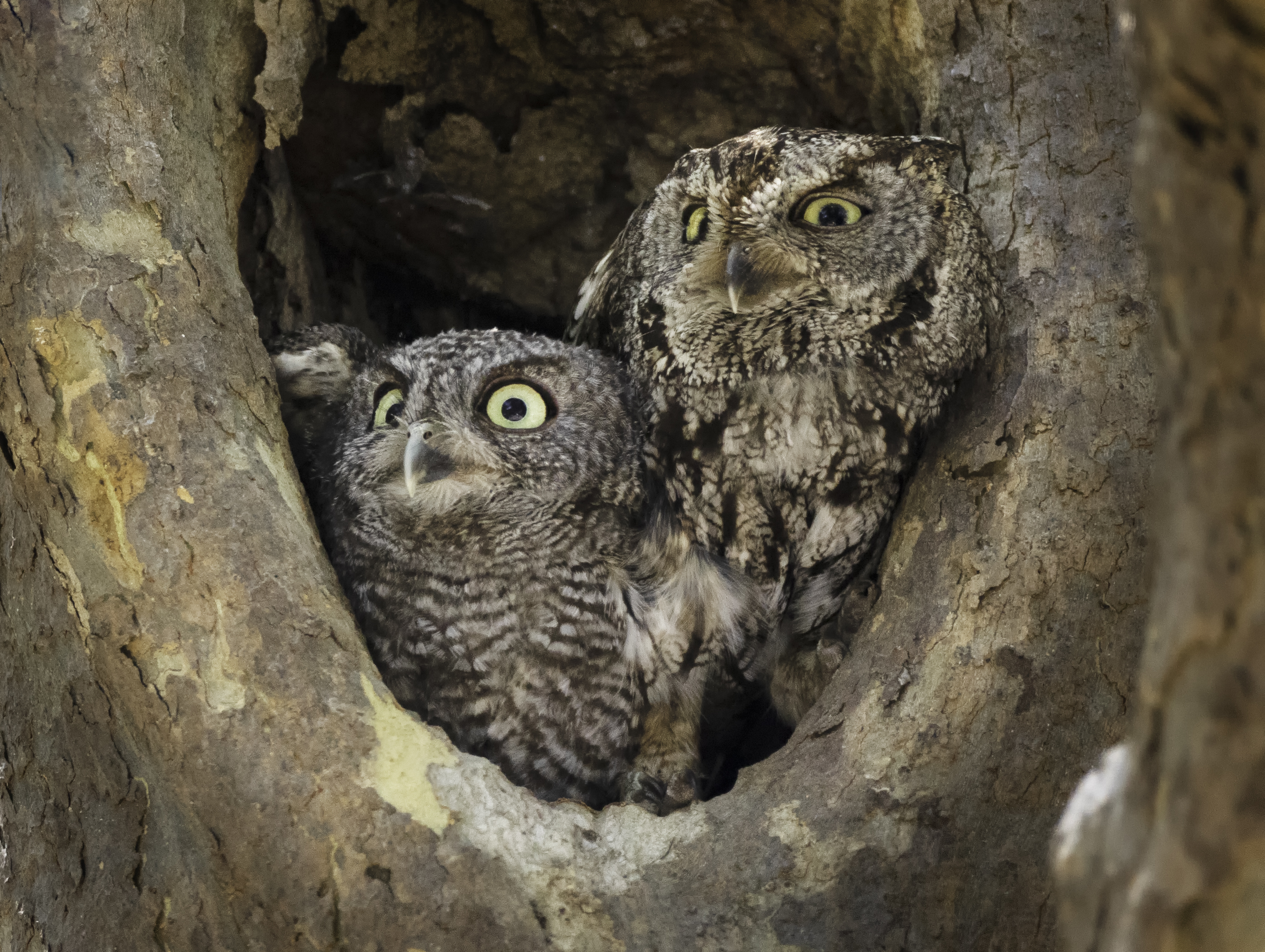 Juvenile & Female Western Screech Owl – by Elyse Omernick 
MCBBA2 Data Explorer Map 
By William Wiskes – GIS Analyst 
Look here for project maps, help finding Marin breeding species, and progress updates. In the upper right of each map, you will find a section of base maps that will help you visualize data.