Spring Bird Songs with Lisa Hug (3 Classes) – Registration Now Open
July 9, 2020 @ 7:30 am

-

11:30 am

$10 – $25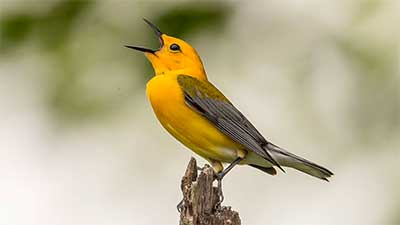 Five Brooks – Thursday, May 7, 2020
Big Rock – Thursday, May 14, 2020
Mount Burdell – Thursday, May 21, 2020
7:30 AM to 11:30 AM
Spring is the best time of year to hear and learn bird songs.  Males are full of hormones and bursting with song.  Many neo-tropical migrants are returning and vying for mates and territories.  It is a very exciting time of year, so even if you dislike getting up early, it might be worth your while to join one or more of these classes.  Participants will be asked to stay quiet to enable us to listen to the myriad of bird sounds.  Wear comfortable walking shoes and bring layered clothing, water, binoculars, field guides, and snacks.
There will be a $10 fee for each class, or you may enroll at the first class for all three sessions at a discounted price of $25.  We will collect payment at the beginning of each class and request payment by check or exact amount of cash. Each class will be limited to 15 participants.  To sign up for one or more of these classes, email Jeanine Starritt at .  Be sure to include the name(s) of the session(s) you wish to join and your phone number. Participants will be contacted to confirm registration, and a wait list will be created if registration exceeds available space. Please be sure to notify us if you are unable to attend as planned.
[ PAYPAL BUTTONS FOR EACH CLASS AND FOR SERIES ]
Directions to Five Brooks:  From Fairfax, take Sir Francis Drake Blvd approximately 15 miles. Turn left on Highway 1.  Turn right at Five Brooks in 3.5 miles.  We will meet at the Five Brooks parking area.  Restrooms available.
Directions to Big Rock Trailhead to Loma Alta Trail:  From Highway 101 in San Rafael, take the exit for Lucas Valley Road west approximately 5.5 miles (look for the big rock on the left).  The trailhead is on the south side of Lucas Valley Road. No restrooms available.
Directions to Mount Burdell: Take Highway 101 to Novato.  Exit at San Marin Drive/Atherton Avenue.  At the end of the exit ramp, turn west (left) on San Marin Drive.  Go approximately 2 miles and turn right on San Andreas Drive.  Park on the street near the end of the road.   No restrooms available.